Living in Art at Hotel Clover The Arts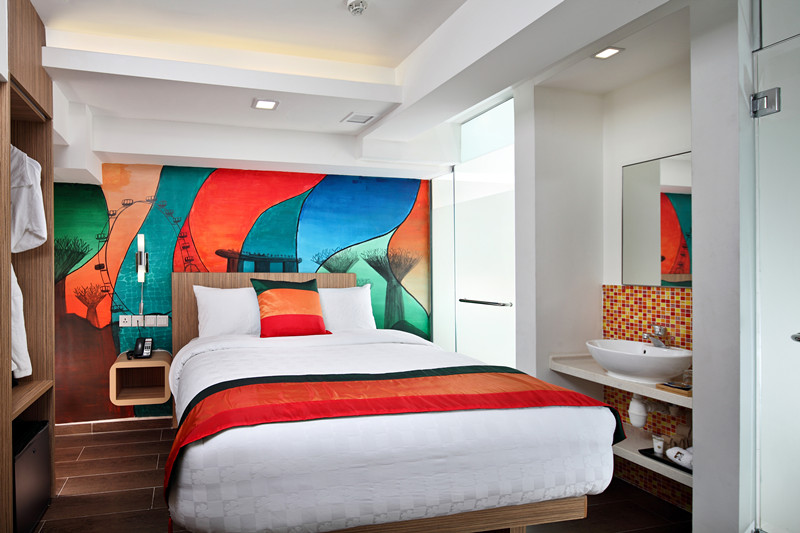 Hotel Clover The Arts is a new art-themed boutique hotel in Chinatown, Singapore. Opened on April 2, 2014, this 44-room hotel offers guests a unique stay through individually-themed rooms. Guests enjoy a visual feast of creativity and diversity in design styles ranging from retro kitsch to urban street art to Pop Art vibrance to line art minimalism.
"Art is typically fairly transient, but we wanted our visitors to be able to develop a relationship with all the tangible, unadulterated art around them – not just look at it, as in galleries or museums, but also touch it, feel it and really immerse themselves in it," says Mr Teo Kok Hwee, CEO of Hotel Clover The Arts. "The hotel hopes to not only offer a platform for these talented artists, but also to create a truly unique arts experience for all visitors."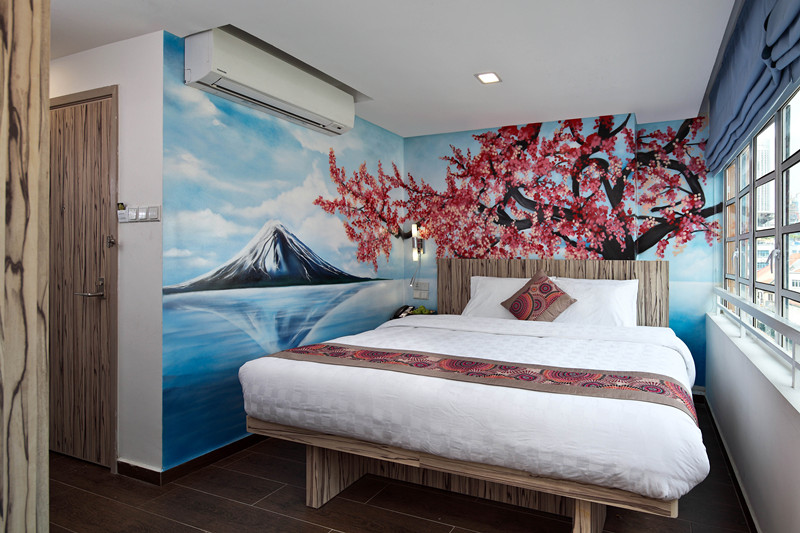 "As an incubator showcasing the artwork of both professional and student artists, we hope to make these art pieces accessible to the general public while providing guests with a glimpse into the private worlds of these artists," says hotel manager Louis Than. Although heavily influenced by the Singapore landscape, each room features artworks which are strikingly different, ranging from stunningly picturesque mountainscapes to vintage-inspired comic art. The rooms also pay tribute to the hotel's symbolic four-leafed clovers, which represent faith, hope, love and luck.
Local students from different arts and design schools were invited to participate in a mural competition for 19 rooms. The winning piece, by Devina Chandra, Vini Kurniawan and Angel Jayayanti of Raffles Design Institute, was of a beautifully rendered vintage travel journal encapsulating some the island's numerous attractions including Marina Bay Sands, Bugis Street and Universal Studios.
Second-place winner Nurul Ameerah Binte Abdul Latiff of Temasek Polytechnic created a vintage black and white comic-style piece, split across two walls for a larger-than-life feel, giving guests the illusion of the emotive characters coming to life.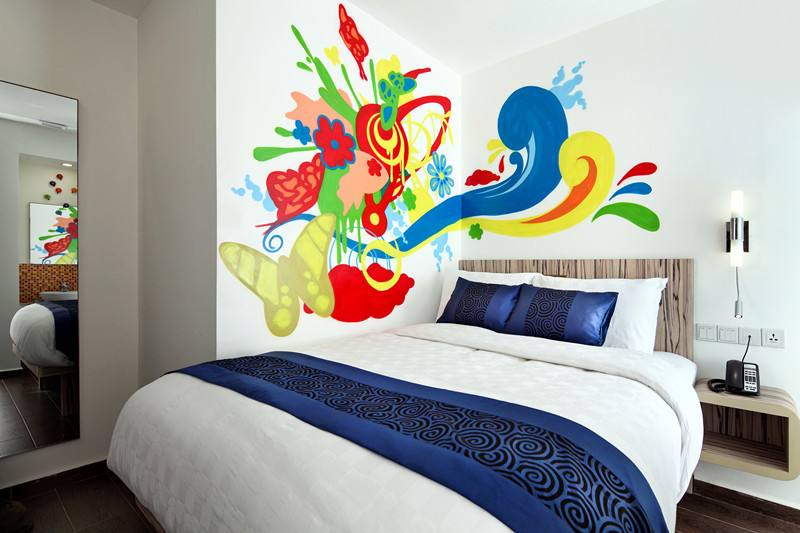 Runner up Daniel Ade Christianto and Lediana of Raffles Design Institute conceptualised 'The Blossom Island', a mural embodying the beauty of Singapore through its soft floral motifs giving it distinctively local feel.
Special mention goes to Jason Tan from Singapore Polytechnic. Inspired by famous Pop Art artist Andy Warhol, he played with the proportion and position of dots in Ben-Day dots style to recreate a hidden Marilyn Monroe.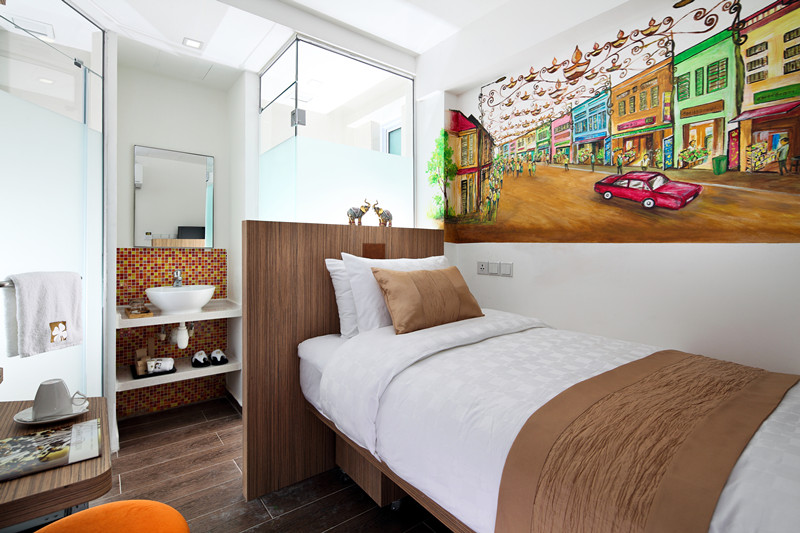 Independent artists were also commissioned to create art for the hotel including local artist Ceno2, who founded creative art collective Artkhalytis (a group of dedicated graffiti artists with formal training in fine art), and artists from Life Art Society. Ceno2's distinctive brand of 'Graffiti Fine Art' incorporates Western fine art skills with aerosol art to create paintings mimicking realism, surrealism and cubism. Ceno2's masterpiece is a breathtaking mural of Mount Fuji amidst clear blue sky, crystal waters and inspired florals. Guests and art lovers will appreciate the striking scene of a larger-than-life waterfall which literally cascades down the external façade of the hotel.
"By crafting the most iconic Singapore attractions onto public spaces like the lobby and the external façade of the hotel, the idea is to create a talking point to encourage guests and staff to mingle," said Ceno2.
Guests can immerse themselves in nature and biodiversity on the fourth floor. Members of the Life Art Society, a non-profit organization which aims to create greater awareness in local art and developing art talent, drew murals that replicate nature and wildlife. The art carries strong elements of Chinese culture: Chinese calligraphic style of landscape beauty runs along the walls.
All rooms are equipped with modern conveniences such as flat-screen TVs, in-room mini-bar and coffee machine, unlimited internet access, buffet breakfast and local calls to provide business and discerning leisure travellers a comfortable and memorable experience.
Guests are spoilt for choice amongst the multitude of art when staying at Hotel Clover The Arts.