360 Fash Tech Kit: Make the Smart Fashion Further
360FashionNetwork is a fashion technology company, dedicated to building a bridge betweenfashion and technology. 360Fashion Network was founded by fashion model AninaNet in 2005, established the first online fashion business platform,introducing new technologies to brands in order to accelerate the evolution ofthe fashion industry. The latest venture is the 360 Fash Tech Kit - fashion IOTmaker kits for fashion designers requiring no coding and no soldering to createsmart fashion and accessories.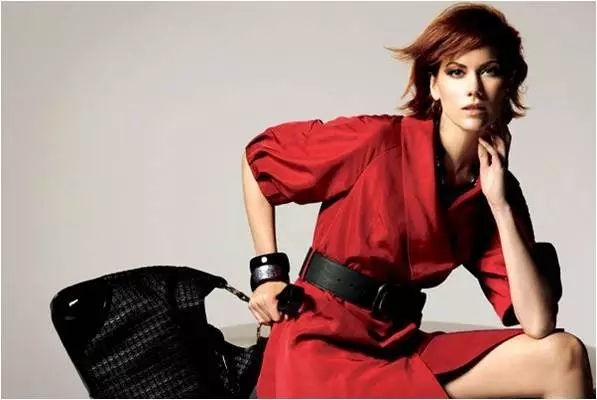 360Fashion Network-Anina Net
360FashionNetwork is a fashion technology company. What did you bring it to the company and make you dedicated to building a bridge between fashion and technology?
I started my career in fashion as a fashion model (www.anina.net), to my family's dismay as they were all computer engineers. Throughout my modeling career I used technology and instead of going to nightclubs I was online chatting about hacking and experimenting with the latest tech. I approached Nokia Corporation with my ideas and they brought me into the Nokia Champion program, trained me, invited me to conferences, and gave me the resources I needed to make my ideas spring to life. I started to think about how to apply tech to the fashion industry as a whole at that point.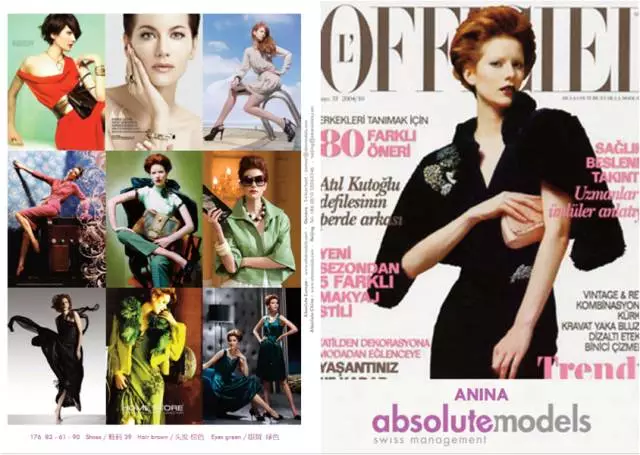 After that thought entered into my head, I looked around and saw my face on billboards and magazines and decided that I needed my image to stand for something: I decided I wanted to go down in history as the "techy model" and revolutionize the fashion industry through advanced technologies. Part of that process was forming a company and becoming an entrepreneur so that I could do larger and larger projects with fortune 500 companies, which had the most advanced technologies.
We are very excited to know of your latest venture - 360 Fash Tech Kit, can you describe more about this technology? And how this idea came out?
These are fashion maker kits (www.360fash.com) - meaning you get everything in the box that you need to create, say, a Robotic Dress (minus the dress). It comes with all the parts and cables ready to snap together to create a smart fashion garment or accessory.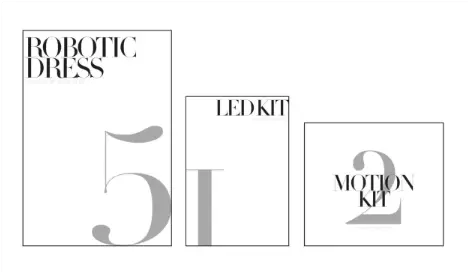 It includes a piece of software that uses visual programming to control the hardware, so you do not need to code or solder to create a tech enabled garment. The garment and accessory making part is up to the fashion designer's imagination! This leaves designers the ability to do what they are good at which is integration and design as a first step. The most difficult part is left to the fashion designers: creating beautiful products that people want to buy #wantables instead of #wearables.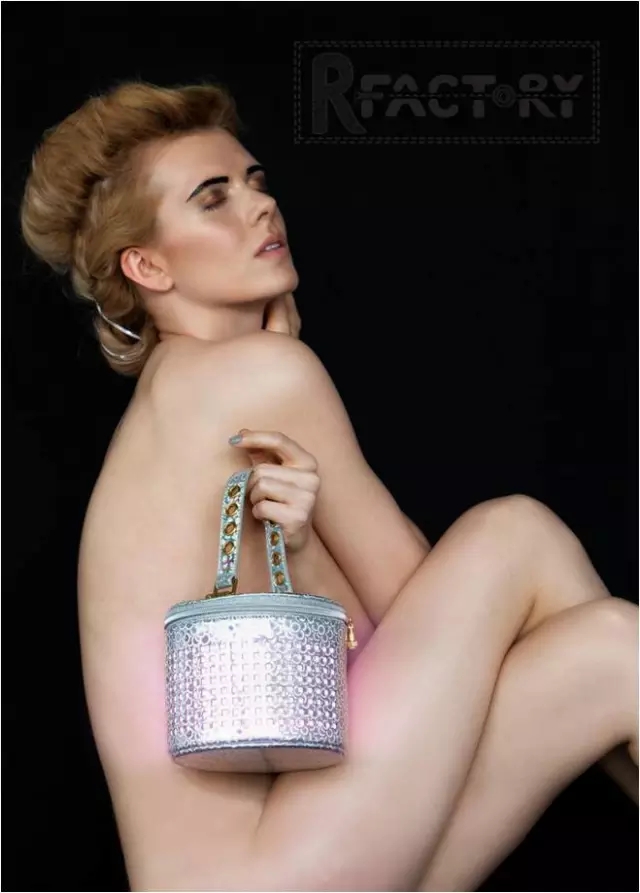 LED Bag by RFactory using the 360Fash Tech "LED Bag" Kit
Photo by Hanep Creative Studio
Model: Maria
For example, our LED Bag kit comes with everything that you need to create a LED bag from the hardware side, and basic lighting pattern from the software side. It has Bluetooth and can connect to your phone for more functionality. The designer simply has to figure out how they would integrate it into a bag and what kind of bag they would like to make - then pop in the pieces.
Afterwards, if fashion designers would like to bring their product to mass production, 360Fashion Network can also help them with that by through crowdfunding campaigns and also with our partners Maker Collider, in mass electronics manufacturing.
Our goal is to accelerate the creation of smart fashion garments and accessories by removing the obstacles for creative professionals.
How do you think this will be beneficial to fashion designers? Any ideas you could make them apply for this technology?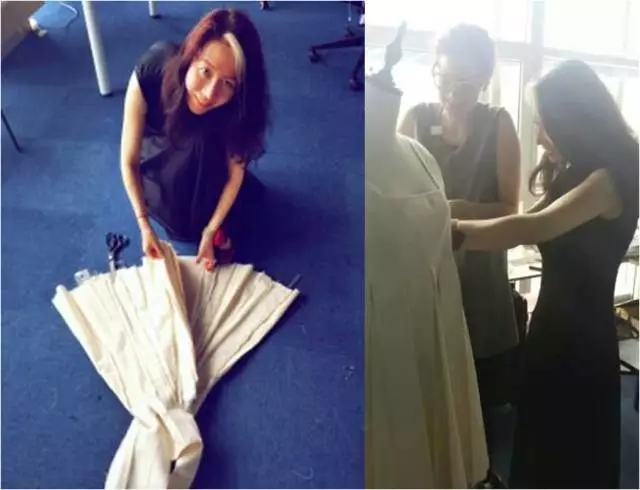 Photos of designers, ZiYe Wang working on a Robotic Dress with Anina Net, CEO 360Fashion Network
I think that fashion designers, who gain experience in working with technology, will have an additional skill that they can use to become more employable to brands as we move into the future.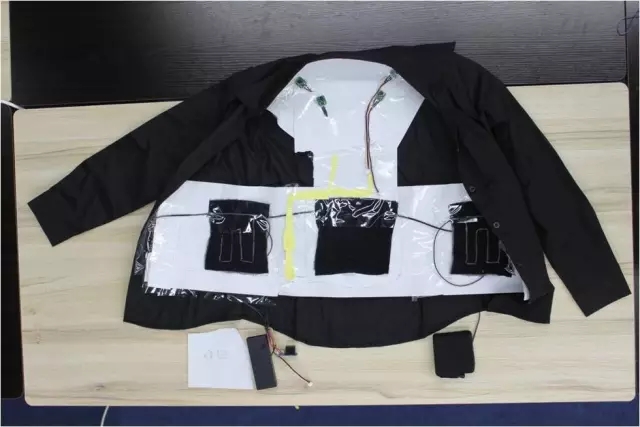 Photo of "Heating Shirt with Massage" prototype by BIFT Studentcreated at the 360Fash Tech Kit Lab
Secondly, students who develop the skills of garment construction & design plus experience in electronics, will have a better chance to gain employment with a prestigious brand, a startup, or major corporation, than complete with the other hundreds of students graduating every year for the same jobs.
Third, wearables, smart garments, and Internet of Things are a growing market. The brand that can make beautiful technological solutions will win the market and differentiate themselves from other brands. They will appeal to the next generation customers: the Millennials. The sooner fashion designers start experimenting, the more future they will have and longevity in the marketplace.
How much has the concept of Building Between Fashion & Technology developed in China after the year of 2005 when you created your own company, in your opinion?
I started to promote fashion & tech together with the CNGA at the CHIC Fashion Expo in 2012 for the first time when we introduced AR, QR, NFC, and APP's to the 110,000 visitors. At that time no one was using QR codes, but we showed them how they could add them to their hangtags, or incorporate them into their store advertising campaign posters, etc.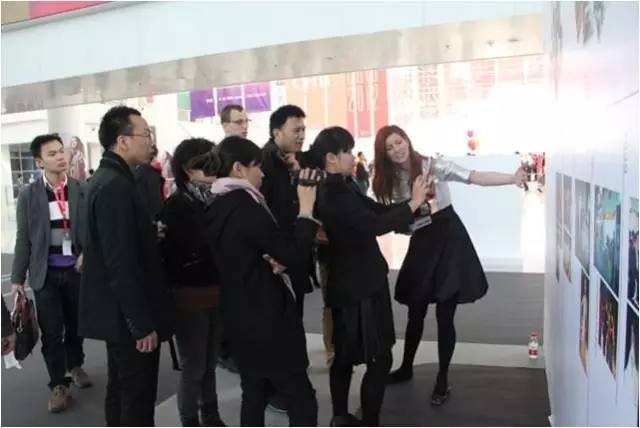 CHIC - 360Fashion & Tech Exhibition 2012 at CHIC Fashion Expo Beijing
We also showed Augmented Reality in the 20th Anniversary of CHIC and people could travel through time seeing videos and photos popping up when they pointed at the wall's photos.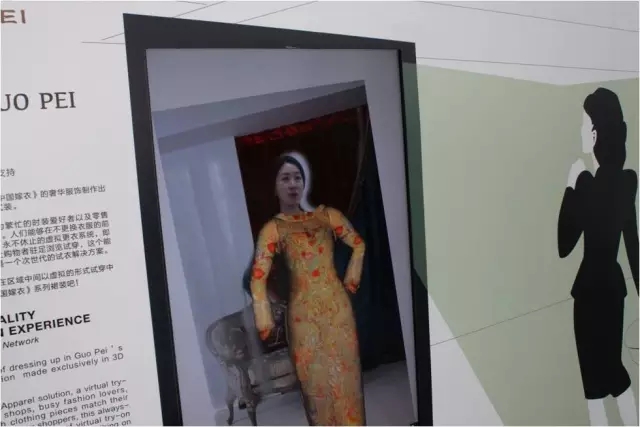 CHIC - 360Fashion & Tech Exhibition 2013 at CHIC Fashion Expo Beijing
We worked with Guo Pei in 2013 when we produced an entire exhibition with the CHIC Fashion Expo about Augmented Reality. People could step into a booth and try on Guo Pei's couture clothing. Now, 3 years later we start to see Augmented Reality changing booths popping up on the market.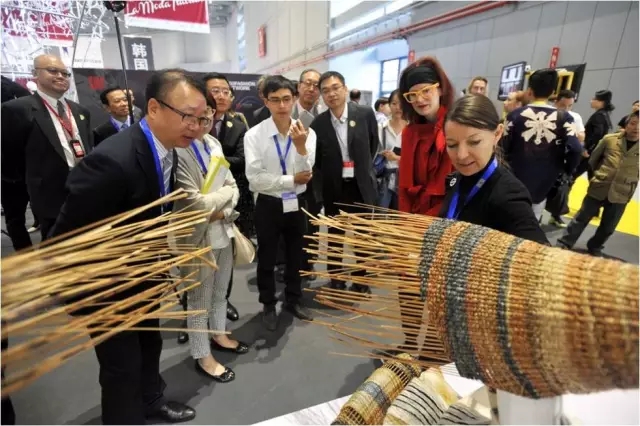 Patricia Flanagan demonstrates "HAPTIC Bonnets" which communicate with voice and vibration with each other at CHIC - 360Fashion & Tech Exhibition 2015 at CHIC Fashion Expo Shanghai
Last year we produced the CHIC - 360Fashion & Tech "Smart Fashion" Expo where we had 3D Printing machine for textiles Electroloom, Patricia Flanagan showcasing Haptic Technology with her talking bonnets, and Illuminated clothing from MoonBerlin, No Fact Group, and Elektrocouture. We had workshops and talks about Smart Textiles, and featured Metaverse Nails who did Augmented Reality manicures for people.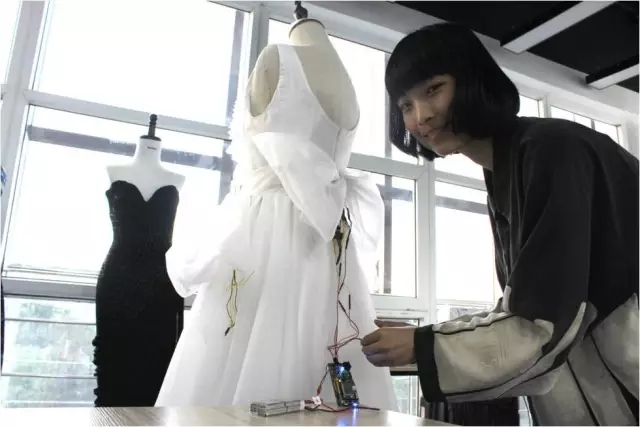 Lucy at 360Fash Tech Lab works on her graduate project of a Proximity Wedding Dress using the 360Fash Tech "Proximity" Kit
Right now our latest project is that we have a Fashion & Technology Lab in Jiandemen where we are working with fashion designers and interns from BIFT, to create smart clothing using our kits.
Who will be your main target costumers? In China or Western countries?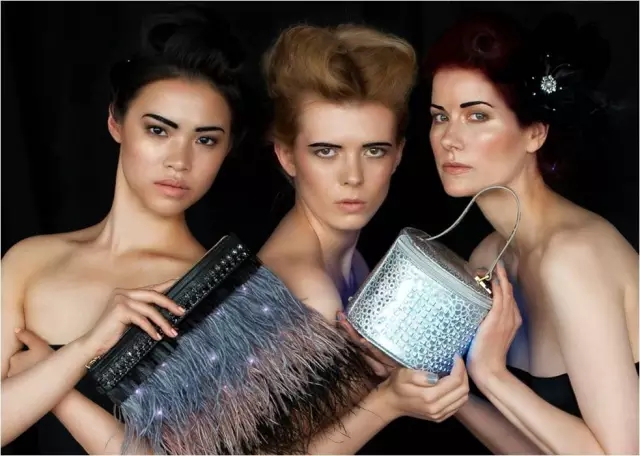 Photo by Hanep Creative Studio
Models: Julie, Maria, Anina
Products: Michael Vane G Led Ribbon Bag, RFactory LED Bag using 360Fash Tech "LED Bag" Kit
Right now we are working with many Chinese fashion brands like ROMASTER, ZiYe Wang, Guo Pei, Michael Vane G, and Libet who are making showcase clothing, LED Bags, and interns who are working on experimental clothing demos. We have a wechat group on fashion tech that has a lot of brands, designers, and accessory makers inside. There is a growing interest and a growing awareness in this sector. However the main difference is that Chinese fashion brands are still focused on mass manufacturing and not a global market, so they do not feel that tech enabled products are a big enough market yet. They do not want to be first movers because they focus on immediate sales and not innovation.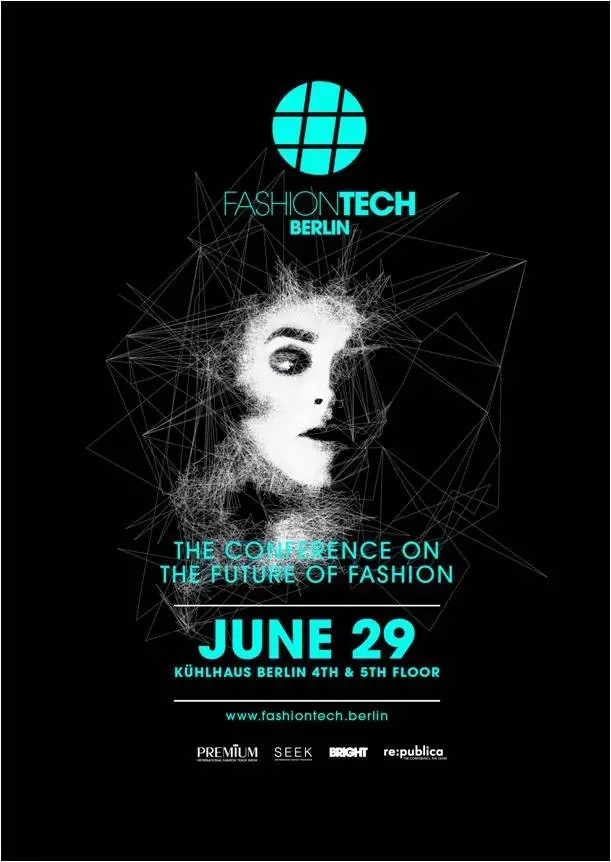 This is very different to a Western brand mentality, which put a high focus on innovation, branding, and looking into the future customers. We see there are many more fashion brands in the west developing small production smart fashion products to bring to the market. Last month I went to the Fashion Tech Berlin conference, then to Amsterdam Fashion Week, and Antwerp Art Expo to present the kits and do workshops, the response to our kits has been 100% positive feedback and we see foreign designers such as Michal Starost, Andrea Salazar, and Raffles College of Design in Australia beginning to use our products. I think the primary market will be in the west to start, and I think Chinese accessories designers will forge the way forward such as LIBET and RFactory with tech enabled bags.
One of your main sales argument is "A kit perfect for designers who want to eradicate the need to code", can you elaborate more about this? Any challenges for this?
Fashion designers study design but they do not often study how to code. We allow fashion designers to easily create programs and use hardware, without needing to code using our visual user interface to program the hardware board. There is a learning curve attached to the LOGIC of coding, but once you understand the basic principals through our tutorials, you are off and running!
What other products are you working on and anything new you are going to launch soon?
LED Ribbon by 360Fashion Network
We have a fantastic material called the LED Ribbon and we have been cooperating with some fashion brands like LIBET, Michael Vane G, and RFactory to create some beautiful LED Bags, which will be on sale very soon for pre-orders and in limited edition! We are actively searching for more bag designers and brands who would like to experiment with fashion technology to create small production, limited edition LED Bags and accessories using the LED Ribbon. http://ledribbon.360fashion.net We are gearing up for some workshops in China and Europe to teach people how to use our kits! www.360fash.com